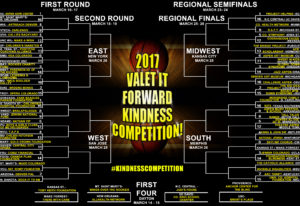 The Official 5th Annual 2017 "Valet It Forward" Kindness Competition Bracket is here!
This is a small way for Jay's Valet to say "Thank You" to all these nonprofits for being kind to others with a fun and interactive campaign that will increase awareness about all the organizations throughout the College Basketball Championship Tournament.
The nonprofit matched with the Championship Winning team will receive a donation of $1,000 from Jay's Valet at the end of the tournament. Our goal is to spread awareness about each nonprofit/charity that has made a difference to the communities we serve in.
Here is the Complete List of Nonprofits, Teams & Games:
March 14:
Toby Keith Foundation w/ #11 Kansas State Vs.
There With Care w/ #11 Wake Forrest
Wings Over The Rockies w/ #16 Mount Saint Mary's Vs.
AllHealth Network w/ #16 New Orleans
March 15:
Judi's House w/ #16 N.C. Central Vs.
Colorado High School Charter w/ #16 UC Davis
Anchor Center for the Blind w/ #11 Providence Vs.
Brent's Place w/ #11 USC
March 16- 17:
East
Aspen Hope Center w/ #1 Villanova Vs.
Wings Over The Rockies w/ #16 Mount Saint Mary's
ArtReach Denver w/ #8 Wisconsin Vs.
Zarlengo Foundation w/ #9 Virginia Tech
Callie's Backyard w/ #5 Virginia Vs.
Make a Wish w/ #12 UNC Willmington
Children's Diabetes Foundation w/ #4 Florida Vs.
Positive Coaching Alliance w/ #13 East Tennessee State
Volunteers of America Colorado Branch w/ #6 SMU Vs. Winner of Providence/ USC Game
Rockies Charity Fund w/ #3 Baylor Vs.
Parkinson Association of the Rockies w/ #14 New Mexico State
Leukemia & Lymphoma Society w/ #7 South Carolina Vs.
YMCA Boulder Valley w/ #10 Marquette
Bridging Bionics w/ #2 Duke Vs.
Opera Colorado w/ #15 Troy
West
Zane Beadles Parade Foundation w/ #1 Gonzaga Vs.
Children's Hospital Colorado Foundation w/ #16 South Dakota State
Bralapalooza w/ #8 Northwestern Vs.
Jewish National Fund w/ #9 Vanderbuilt
Nathan Yip Foundation w/ #5 Notre Dame Vs.
Boys & Girls Clubs of Metro Denver w/ #12 Princeton
TAPS w/ #4 West Virginia Vs.
Chelsea Hutchison Foundation w/ #13 Bucknell
Gold Crown Foundation w/ #6 Maryland Vs.
Central City Opera w/ #11 Xavier
Cobiz Financial w/ #3 Florida State Vs.
Chanda Plan Foundation w/ #14 Florida Gulf Coast
MADD Colorado w/ #7 Saint Mary's Vs.
National Kidney Foundation w/ #10 VCU
Denver PAL w/ #2 Arizona Vs.
Sock it to Em w/ #15 North Dakota
MidWest
Project Helping w/ #1 Kansas Vs. Winner of N.C. Central/ UC Davis Game
Colorado Health Network w/ #8 Miami Vs.
R.A.F.T w/ #9 Michigan State
Colorado Symphony w/ #5 Iowa State Vs.
Courageous Faces w/ #12 Nevada
The Bridge Project w/ #4 Purdue Vs.
ACE Scholarship w/ #13 Vermont
Aspen Art Museum w/ #6 Creighton Vs.
Invest in Kids w/ #11 Rhode Island
Global Down Syndrome w/ #3 Oregon Vs.
Jazz Aspen w/ #14 Iona
Denver Art Museum w/ #7 Michigan Vs.
Challenge Aspen w/ #10 Oklahoma State
The Big Idea Project w/ #2 Louisville Vs.
Rocky Mountain Down Syndrom w/ #15 Jacksonville State
South
Morgridge Family Foundation w/ #1 North Carolina Vs.
KATA Foundation w/ #16 Texas Southern
Aspen Music Festival & School w/ #8 Arkansas Vs.
Tall Tales Ranch w/ #9 Seton Hall
Denver Active 20-30 w/ #5 Minnesota Vs.
Theatre Aspen w/ #12 Middle Tennessee
Anna & John Sie Foundation w/ #4 Butler Vs.
National Jewish Health w/ #13 Winthrop
Skyline Chorus w/ #6 Cincinnati Vs. Winner of Kansas State/ Wake Forrest Game
Jewish Colorado w/ #3 UCLA Vs.
Foundation Fighting Blindness w/ #14 Kent State
The Catholic Alliance w/ #7 Dayton Vs.
Invisible Disabilities w/ #10 Wichita State
Arc Thrift Stores w/ #2 Kentucky Vs.
University of Colorado Hospital Foundation w/ #15 Northern Kentucky
***We are not affiliated with the NCAA or March Madness. This is a bracket that we create to coincide with the college basketball championship. We hope that this competition will keep your team entertained throughout the College Basketball Championship.***